Who are we?
We are a community of early career women in social sciences. And that's why we share a professional and personal interest in expanding existing stories about who can be a researcher.
---
---
---
---
---
---
---
And we couldn't do without…
Past: I was born and raised in Stuttgart in the Southwest of Germany in a musical and tech-savvy family. I studied audiovisual media at the Stuttgart Media University and sound design at the Filmakademie Baden-Württemberg.
Present: I love the world of sound. I currently work as a freelance audio engineer and sound designer for film, TV and advertising. I also work as a audio engineer at the young opera Stuttgart (JOiN).
Future: In the future, I will continue to support people with my work and sound design to tell their stories.
---
Past: Zey moved to Germany from Istanbul in 2017 and has been living there since. With an education background in sociology, they get their inspiration for their artwork from the social conflict between the self and the identity, and they can't separate politics and art from each other.
Present: Zey is a 34-year-old self-taught visual artist, and one of the co-founders of the Cologne based queer-feminist art collective cumming. Nowadays they are taking part in organising new events and focusing on their personal art projects.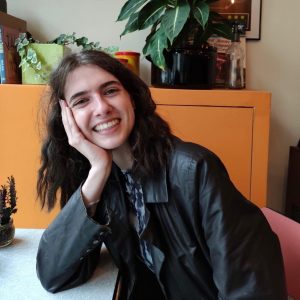 Past: I was born and raised in The Netherlands, I studied the Bachelor in Psychology at the Erasmus University of Rotterdam. I enjoy living in Rotterdam because it is such a multicultural city. My Bachelor's sparked my interest in research and I am personally interested in making research more accessible to everyone. As a researcher, I think it is important to interact with different cultures and learn from each other's points of view.
Present: I am currently a Clinical Psychology master's student at the Erasmus University of Rotterdam. Within my master's I focus on how the mental well-being of young people got affected by Covid-19. Besides my studies, I work as a research assistant for Movez Lab and I do voluntary work as a coach on the McGuire Programme. I have a stammer myself and now help other people with a stammer. The McGuire Programme is an international programme where I got to know people from all around the world.
Future: Next year I will move to Edinburgh to study Psychological Research at the University of Edinburgh. I am excited to study in a different country and meet students from different backgrounds. My hope is that this podcast will give representation to underrepresented groups and that will make other students (from diverse backgrounds) excited to work in the research field. Lastly, I hope this podcast will give listeners a better understanding on why representation and diverse research is important.